Wave leaf chocolate, the ultimate luxury
Enjoy the most luxurious combination: Goldleaf Chocolate with 23 carat gold leaf. A delicious bonbon with 23 carat edible gold and Belgian dark chocolate. Filled with a wonderfully soft chocolate filling. This creates a beautiful promotional gift. A nice present with a golden (chocolate) edge.
Gold and chocolate, the two greatest temptations in the world.
Gold, you can put it on your finger, on your neck for jewelry, but eat? Yes, this 23 carat gold leaf is really edible. In conjunction with the Belgian dark chocolate a tasty treat with 70% cocoa.
Golfleaf Chocolate, a golden gift
Pure world famous Belgian chocolate Callebaut.
Made with a minimum of 70% cocoa.
Made of 23 carat edible gold leaf.
We pack this unique gift in a luxury gift box.
This tasty luxury chocolate can also be made on request with the new "4th" chocolate: Ruby Chocolate!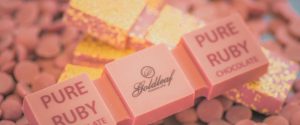 More information